The Indian Railways is one the largest Public Sector Undertakings in India. The Railway Budget is an annual financial statement that shows estimated receipts and expenditures related to the Indian Railways in the coming financial year.
The term 'Railway Budget' is not mentioned in the Constitution. However, it works under Articles 112 and 204 of the Constitution. Article 112 states that the President would cause to be laid before the Houses, an annual financial statement. This statement would show all expenditure to be made from the Consolidated Fund of India.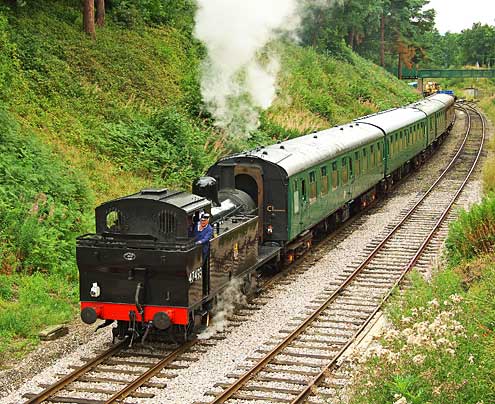 The theme of 2016's budget is Reorganization, Restructuring and Rejuvenation of Railways. It is subtitled 'Chalo Milkar Kuch Naya Karen.' By 2020, it aims to fulfill 'long-felt desires of the common man.' It enumerates three pillars of strategy namely, Nav Arjan – new revenues, Nav Manak – new norms, Nav Sanrachna – new structures.
In 2015-16, Railway Minister Suresh Prabhu reported that they were able to save Rs. 8270 crores from the budget estimate.
The Railways secured funding from the LIC. Also, it commissioned Broad-gauge lines and 1600 km of electrification. It has proposed to set up dedicated north-south, east-west and east coast freight corridors. It has also commissioned projects to improve connectivity to ports (such as Tuna, Jaigarh and Paradip), the North East including Assam, and Jammu and Kashmir.
It has also proposed setting up of two locomotive factories under the 'Make in India' scheme.
So far as Capacity building is concerned, transparency has been increased with the use of electronic platforms to procure works and award tenders. Internal audit measures have been advised. It has also entered into JVs with State Governments, with 6 MoUs signed.
To improve customer interface, steps were taken to improve punctuality. World's first Bio-Vacuum toilet was developed, 'Mahamana Express' with modern refurbished coaches was launched, Wi-Fi was provided in 100 stations.
One of the major 'achievements' was the 'identification of' the National Academy of Indian railways at Vadodara as first institution which would be upgraded to a full-fledged rail university.
A roadmap for the coming year was also noted:
I. For unreserved passengers,
An unreserved, superfast service 'Antyodaya Express' was proposed.

Also, 'Deen Dayalu' coaches – unreserved coaches with potable water and 'higher number' of mobile charging points were proposed.
II. For reserved passengers, a number of improvements were proposed –
Humsafar: Fully air-conditioned third AC service with an optional meals service.

Tejas: Will operate at speeds of 130 kmph and above. Will offer onboard services such as entertainment, local cuisine, WiFi, etc.

UDAY: 'Utkrisht Double-Decker Air-conditioned Yatri' Express on the busiest routes. It is an overnight double-decker service with the potential to increase carrying capacity by almost 40%.
III. To improve the ticketing process, a number of measures have been announced including:
Sale of tickets through hand held terminals,

Bar coded tickets,

Facility of cancellation through the 139 helpline.
 IV. Cleanliness being a major problem plaguing the railways, a few major steps have been announced:
'Clean my Coach' service through SMS,

Ranking stations based on periodic third party audit and passenger feedback,

Providing biotoilets at all platforms of select stations for senior citizens, Divyang and women travellers,
V. Catering and stalls at stations: IRCTC to manage catering services in a phased manner; explore possibility of making catering services optional, adding 10 more IRCTC operated base kitchens; to build local ownership and empowerment. Local cuisine of choice will be made available to passengers.
VI. Stoppages: Convert all 'operational halts' into 'commercial halts.'
VII. Measures for Divyang (disabled persons):
To provide at least one Divyang friendly toilet at each platform in A1 class stations during the next financial year and also ensure availability of wheelchairs in sufficient numbers at these stations.
VIII. Also, it would offer optional travel insurance for rail journeys at the time of booking.
IX. Janani sewa: Children's menu items on trains, baby foods, hot milk and hot water would be made available.
X. A new design for coaches (albeit with an odd acronym!) called SMART (Specially Modified Aesthetic Refreshing Travel). This design would ensure:
Higher carrying capacity,

Provision of new amenities including automatic doors, bar-code readers, bio-vacuum toilets, water-level indicators, accessible dustbins, ergonomic seating, improved aesthetics, vending machines, entertainment screens, LED lit boards for advertising, PA system.
XI. Mr. Prabhu also announced a plan to integrate all functions into two mobile apps– one dealing with ticketing issues and the second for receiving and redressing grievances.
XII. Information boards and Pilgrimage Centres- Information Boards in trains would enumerate the on-board services and also GPS based digital displays inside coaches to provide real time information regarding upcoming halts. It would also take up on priority the provision of passenger amenities and beautification on stations at pilgrimage centres.
XIII. Porters:
Provide them with new uniforms and train them in soft skills
No longer to be called 'coolies' but be known as 'sahayaks.'
XIV. High Speed Rail: A Passenger corridor from Ahmedabad to Mumbai is being undertaken with the assistance of the Government of Japan.
XV. Entertainment:
Proposal to invite FM Radio stations for providing in-train entertainment,
Extend 'Rail Bandhu' to all reserved classes of travelers and in all regional languages.
XVI. Rail Development Authority
It would take steps under various heads namely Navarambh, Navinikaran, Sashaktikaran, Aekikaran, Shodh aur vikas, Vishleshan, Navrachna, Avataran etc.
XVII. Tourism
Partnering with State Governments for operating tourist circuit trains,
Upgradation of National Rail Museum,
Promotion of tourism through Railway museums and UNESCO world heritage Railways.
To spread awareness about the National Animal, the Tiger, complete packages including train journey, safaris and accommodation to cover the wildlife circuit comprising Kanha, Pench and Bandhavgarh would be offered.
Mr. Prabhu stated, "This is not my budget but this is a budget that reflects the aspirations of families in India…"
–By Mohit Talwar