The mysterious ways of the collegium
Not long ago, in September 2021, the Supreme Court of India's Collegium made thirteen recommendations for the transfer of High Court Judges. Out of the thirteen, eight judges were recommended for elevation to the position of a Chief Justice of a High Court whereas five judges were recommended for transfer. The collegium members at the time of this decision were Justice Uday Umesh Lalit, Justice Ajay Manikrao Khanwilkar, Justice Dhananjaya Yeshwant Chandrachud and Justice L. Nageswara Rao, headed by the Chief Justice of India – Justice N.V. Ramana.
Prior to Justice Ramana, Justice Sharad Arvind Bobde held the position of the Chief Justice of India. The collegium did not make any recommendations for the Supreme Court during the period Justice Bobde was heading it – they were simply at a juncture where the 5 members were unable to reach consensus about whom to appoint or transfer. The difference of opinion was pertaining to the elevation of Tripura High Court Chief Justice Akil Kureshi and Karnataka High Court's senior judge, Justice B.V. Nagarathna, to the Supreme Court. Justice Ramana's collegium covered the gap as soon as he took charge. In fact, within six months of his elevation (April 2021), the collegium had recommended nearly 100 names for appointment in different High Courts, besides filling the nine Supreme Court vacancies in one go. The recent recommendations included the disputed-upon names as well. While Justice B.V. Nagarathna was appointed as a Supreme Court judge, Justice Akil Kureshi, one of the senior-most high court judges of the country, was only transferred to another court (Rajasthan High Court).
When one comes across the collegium's recommendations, their thought process usually goes either of the two ways – they would either think hard about why/why not a particular judge was elevated or would simply take the reasons for elevation for granted. Taking the example of 2021's recommendations – The collegium did not recommend Justice Kureshi for the Supreme Court. If one is familiar with his backstory (Click here to read about Justice Kureshi), their first thought would be why was he not elevated to the Supreme Court. Similarly, when one reads articles about Justice Hima Kohli (Click here to read about Justice Kohli) taking oath (April 2021) as a Supreme Court judge, the question that comes to their mind is why was she elevated to the apex court. On the other hand, if one has already endlessly obsessed with these questions in the past, they would simply not care about the 'why(s)' because they know there are no answers out there.
These processes of speculation, contemplation and/or ignorance are a testament to the lack of transparency in the collegium's proceedings. Needless to say, it is very difficult to predict who would be elevated to the apex court and on what grounds. The basic eligibility criteria set by Article 124 of the Constitution states that anyone who has been a judge of a high court or two or more high courts in succession for more than five years, an advocate of a high court or two or more high courts in succession for at least ten years or a distinguished jurist (even though no one has been elevated from this category yet) can become a Supreme Court judge. However, as per this criteria, there are countless number of candidates for judgeship in the Supreme Court. The 'best' out of them are selected by the collegium behind closed doors. Since nothing has been stated or revealed about how the collegium carries out this culling, the real answer to 'why' remains unanswered.
P.N. Bhagwati's 'merit'
Imagine if there were, at the least, objective headers to the subjective processes of judges' selection. Wouldn't this make ascertaining the reasons for a judge's elevation somewhat achievable?
Justice P.N. Bhagwati, the 17th Chief Justice of India and the father of Public Interest Litigation (PIL), authored a judgment (Dr. Pradeep Jain v Union of India) in which he outlined the concept of merit which must govern any process of selection. Since the recommendations given by the collegium are also a result of a 'selection', it can be said that the judges who have all the qualities contained within this definition of merit may qualify for the position of a Supreme Court judge.
Coming to the definition, Justice Bhagwati highlighted five elements of merit. It contains a high degree of intelligence, a keen and incisive mind, sound knowledge of the basic subjects, infinite capacity for hard work and a sense of social commitment to the cause of the poor. He also said that one's marks (head) are not the only indicator of merit, human sympathies (heart) are equally important.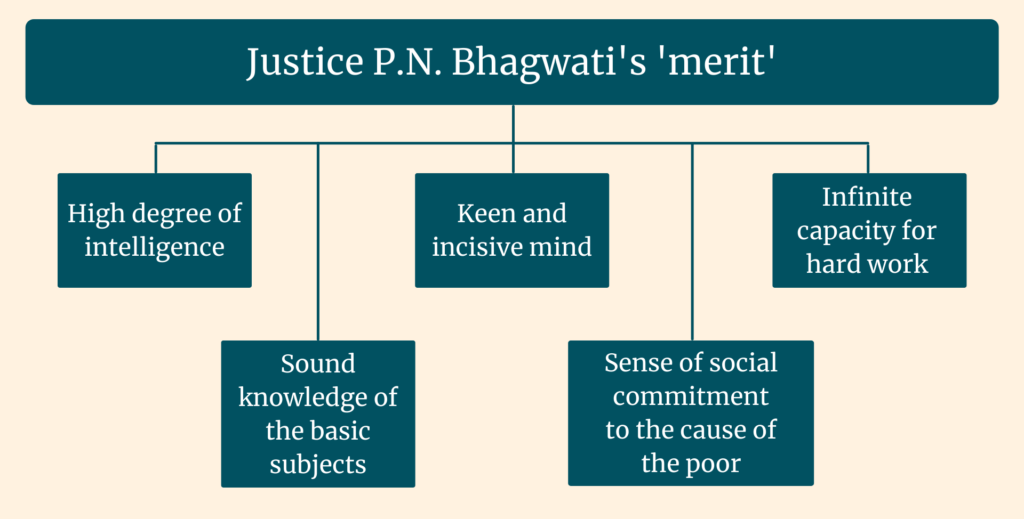 For a clearer perspective, let's infer the relevance of these elements in matters pertaining to the judiciary. A 'high level of intelligence' is needed to tackle the technicalities of law and produce just and reasonable judgments. A 'keen and incisive mind' always helps in the mindful interpretation of cases and produces fruitful interaction of textbook knowledge with ever-evolving real life cases. 'Sound knowledge of the basic subjects', which, in legal context refers to legislation and case law, is necessary to give informed judgements. On an average day a Judge might have to go through hundreds of pages of reading which surely calls for an 'infinite capacity for hard work'. And the fifth element, a 'sense of social commitment to the cause of the poor', is crucial for any public servant to possess.
The heart-head or marks-human sympathy equation mentioned by Justice Bhagwati translates to theoretical knowledge of law coupled with reasonable implementation of various matters, which is, again, pertinent. Justice Bhagwati's definition of merit can make a good enough scale to rate judges and even though it does not govern the process of their selection (if it does, we do not know), the consideration of these factors only makes sense.
Justice Sanjay Karol
Justice Sanjay Karol, currently (2021) the Chief Justice of the Patna High Court, has received praise from not only Justice Surya Kant but various other prominent judges such as Justice Sharad Arvind Bobde and Justice Subhasish Talapatra. This has put him in the limelight several times. Nonetheless, he has never received bad press. One of the reasons for the same is that no controversies surround him. He has managed to not indulge in any violations or misconduct and comes off as politically neutral. Moreover, he has taken several laudable suo moto actions and has given reasonable judgments. Justice Karol seems like a good fit for the apex court, however, Supreme Court judges are not and should not be appointed on a cursory basis. It thus becomes important to put his story under a microscope and compare and contrast his demeanour with P.N. Bhagwati's elements of merit.
Journey till becoming a judge
Sanjay Karol was born on 23rd August, 1961 in Shimla, Himachal Pradesh and spent his childhood in the state's beautiful summer capital. He completed his schooling from St. Edward School following which he pursued history honours from Government Degree College, Shimla. Finally, he obtained his L.L.B. degree from Faculty of Law, Himachal Pradesh University.
Sanjay Karol was enrolled as an advocate in the year of 1986. He practiced in various courts in constitutional, taxation, corporate, criminal and civil matters. His practice was not limited to district or high courts but extended to the apex court. He appeared as Counsel in the Inter-State water Dispute (BBMB Project) in the Supreme Court of India.
While appearing in the Supreme Court is a big deal in itself, Karol gained much more than most advocates do from their visits in the apex court: his paths crossed with Arun Jaitley's, who ended up mentoring Karol. Arun Jaitley was not just a prominent lawyer but a politician as well. He obtained his law degree in 1977 and joined the BJP in 1980. His political and legal career grew simultaneously. In 1989, Jaitley was appointed as the Additional Solicitor General by the Vishwanath Pratap Singh Government. Needless to say, he was well connected within and beyond the legal fraternity. Since Jaitley had such a diverse portfolio, he not only guided Karol, but opened many avenues of knowledge and opportunities to him.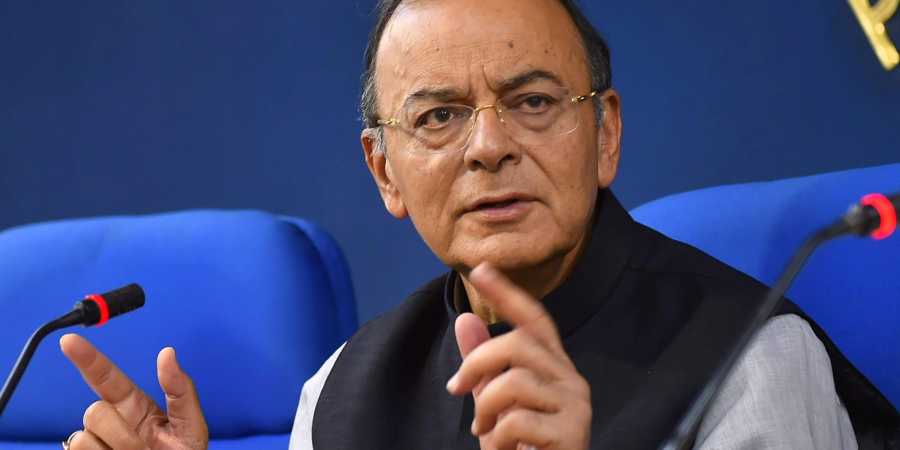 Coming back to his native land, Karol discharged Constitutional duties as the Advocate General of Himachal Pradesh from 1998 to 2003. Moreover, in 1999, he was designated as Senior Advocate. He also remained on the Senior Panel for Central Government, Supreme Court of India.
Himachal Pradesh High Court
On 8th March, 2007, Sanjay Karol was elevated as a judge of the Himachal Pradesh High Court. Apart from being a judge, he was the Executive Chairman of Himachal Pradesh Legal Services Authority, Chairman of Himachal Pradesh High Court Legal Services Committee and a member of the Board of Governors of Himachal Pradesh Judicial Academy.
After practicing as an advocate for around eleven years and as a judge for ten years, Justice Karol was elevated to the position of Acting Chief Justice of Himachal Pradesh High Court on 25th April, 2017. Even though he was transferred to Tripura High Court in just a year, he managed to take several suo moto cognizance and give reasonable judgments in Himachal Pradesh.
One of the instances that highlight the unbiased attitude of Justice Karol is when he took suo moto cognizance of a matter against the university he graduated from – Himachal Pradesh University. It was based on a letter petition filed by a student named Indu Kumari, who highlighted the issue of denial of admission to her under 5% quota, as provided in Rights of Persons with Disabilities Act, 2016 by the Himachal Pradesh University. Admission was denied to her because the University was providing only 3% reservation to the disabled students, per the outdated reservation policy of the government of Himachal Pradesh. A bench consisting of Justice Sanjay Karol and Justice Ajay Mohan Goel gave the following judgment.
In another case, a suo moto cognizance of a letter petition filed by Ankush Dobhal, the same bench ordered for the proper implementation of Cigarettes and Other Tobacco Products Act, 2003 and Himachal Pradesh Prohibition of Sale of Loose Cigarettes and Beedies and Regulation of Retail Business of Cigarettes and Other Tobacco Products Act, 2016.
The acts in question prohibit smoking in public places, ban sales of cigarettes to individuals below the age of 18 years and also in any area within 100 yards of an educational institution, allow for only packaged tobacco products containing specified warnings to be sold, and subsequently bans sales of loose cigarettes. The bench also issued directions to the Union of India, State Governments as well as the Union Territories to take effective steps to ensure prohibiting smoking in public places, namely: Auditoriums, Hospital Buildings, Health Institutions, Educational Institutions, Libraries, Court Buildings, Public Offices, Public Conveyances, including Railways.
One of the landmark judgments given by Justice Karol has been attributed as one of the primary reasons for Himachal Pradesh becoming the second Indian state to get 'open defecation free' status. In 2017, a bench consisting of Justice Karol and Justice Sharma noted that even though approximately 5000 buses ply on the National Highways and State Highways on a daily basis, no public conveniences are available on the aforesaid Highways. The bench declared toilets along highways a fundamental right as forcing people to urinate or defecate in public owing to the absence of public toilets is akin to violation of dignity. Subsequently, the Court directed the state for construction of public toilets along the highways.
Apart from this, Justice Karol gave various landmark judgments on issues like removing discrimination against married women in matters of employment, checking illegal mining, protection of rivers from the illegal running of dams. His judgments gave directions for various important activities such as the installation of cameras in the prisons to check human right violations, building roads, the protection of the UNESCO heritage sites (including a drive to clean up Shimla-Kalka railway), to improve the medical facilities in the hospitals, reforms in the forest department especially the condition of forest guards, police reforms and much more. Himachal Pradesh High Court Bar Association President, Rajeev Jiwan, described Justice Karol as a hard task master and appreciated various landmark judgments rendered by him on the issues of public importance, especially his contribution in solving the issue of Shimla water crisis.
On 12th November, 2018, the Himachal Pradesh bid farewell to Justice Karol as he was appointed as the Chief Justice of Tripura High Court. In his address, Justice Surya Kant said that Justice Karol has never allowed technicalities to overshadow the free flow of justice, and the highest degree of impartiality, absolute integrity and independence had been the hallmarks of Justice Karol's character as a man and a judge. With that note, Justice Karol started his journey in the Tripura High Court.
Tripura High Court
Justice Karol took oath as the Chief Justice of the Tripura High Court on 14th November, 2018. In this court, he hit a milestone as the Tripura High Court created history by disposing of the highest number of cases in India during Justice Karol's tenure.
In 2018, Justice Karol gave a judgement that highlighted his 'knowledge of the basic subjects'. This case was against Raju Bhowmik, with the conviction (from Agartala District Court) of having raped his minor step sister. The case hinged upon the reliability of ocular evidence i.e. evidence based on what one has seen. The bench comprising Justice Karol and Justice Lodh stated that ocular testimony has always a greater evidentiary value unless and until the medical evidence makes the ocular evidence wholly improbable. Corroboration is not sine qua non (an essential condition) for conviction. However, they added that it cannot be said that corroboration is not at all needed to convict an accused of offence of 'rape' but it can be said that the necessity of corroboration may be needed in the rarest of the rare cases. It was further concluded that the case in question was not of complete contradictions or inconsistencies between medical evidence and the ocular evidence as well as between the statements of the prosecution witnesses. Having so observed, the ocular evidence in the case at hand being cogent, credible and trustworthy of support from medical evidence was deemed inconsequential. Subsequently, the bench upheld the order of conviction and sentence.
In March 2019, a division bench consisting of Justice Karol and Justice Lodh heard a petition on a complaint filed by a district court judge on 'barbaric and unusual' frisking of undertrial prisoners in Khowai Sub-Jail, located 50 kilometers from Tripura. The bench took the matter seriously and directed the state government to ensure that inmates of all jails are searched as per provisions of jail manual.
In another case, taking a suo motu PIL, the bench comprising Chief Justice Sanjay Karol and Justice Arindam Lodh directed the Communist Party of India (Marxist), BJP and Congress to file an affidavit disclosing details of public properties, in their unauthorised illegal possession in relation to which they are claiming title by way of adverse possession. It also sought the details of all the cases pertaining to this matter, either pending or disposed off before different forums.
In October 2019, a petition was filed to seek a ban on animal sacrifices in temples located in the state of Tripura. After a long interpretation of various constitutional provisions and acts, Justice Karol and Justice Arindam held that the practise of sacrificing animals is not an integral part of religion which is protected under Article 25(1) and the judgement banned the practise of animal sacrifice in the state of Tripura. Not more than a month after this judgment was given, it was challenged in the Supreme Court by the State Government. Validating Justice Karol's judgment, the Supreme Court imposed a stay on the same.
Under Chief Justice Justice Karol, the Tripura judiciary witnessed many improvements. A Committee was formed for centralized recruitment of staff at all levels. The vacancies for the post of judicial officers in the Tripura Judicial Service had been filled up in an exemplary manner. In 10 months, 19 vacancies in the Grade-III of the Service had been filled up. 03 Grade-III officers had been promoted to Grade-II of the Service. For the first time in the history of Tripura, advertisement for recruitment in the Grade-I of the Service had been issued twice in a year. Moreover, under his supervision, the judiciary of Tripura settled considerable numbers of cases in the Lok adalat and through mediation. Legal services camps were also organized in various districts. The Tripura High Court also witnessed an exemplary improvement in infrastructure development. Newly set-up family Courts became functional in Ambassa and Khowai Judicial Districts. Many proposals for infrastructure development in the State of Tripura were finalized and construction of some of the projects had also begun.
Apart from successfully disposing off the highest number of cases in India, Justice Karol facilitated various noteworthy improvements in the Tripura High Court that attests his competency as the high court's Chief Justice. Be that as it may, his one-year journey in the Tripura High Court came to an end in November 2019 as he was appointed as the Chief Justice of Patna High Court.
Patna High Court
Justice Karol replaced Justice Amreshwar Pratap Sahi as the Chief Justice of Patna High Court on 11th November 2019.
From the longest time, Patna High Court has had a considerable amount of vacancies of judges which slows down the speed of disposal of cases by the Court as a whole. However, in the two years he has spent in this court, Justice Karol has given several notable judgments.
In March 2021, a writ petition was filed in the nature of Habeas Corpus for directing the respondents to produce a minor daughter (16 years old), Vartika Kumari, who has been illegally confined by the respondents. However, it was found that neither the girl had been recovered nor any statement of her had been recorded before the Judicial Magistrate. Subsequently, the bench comprising Justice Karol and Justice S. Kumar directed the state government to provide training for inspectors and other officers who deal with cases where the victim is a child. The training is aimed to get these officers acquainted with relevant laws and its provisions. They also directed the Bihar State Judicial Academy to carry out sensitization programmes for judicial officers who deal with such cases. Furthermore, there are more cases in which Justice Karol has addressed the plight of children.
​​School shut, no mid-day meal, children in Bihar village back to work selling scrap.

Indian Express, 7th July 2020
The newspaper article highlighted that families and children who came from poor socio- economic backgrounds were facing economic hardships. As a result, they are unable to put food on the table. Children who were prone to malnutrition were pinned as the worst sufferers of the ongoing pandemic. This was on account of shutting down of the Anganwadi centres and suspending the supply of mid-day meals to children under the various schemes rooted by the Government. Based on this, Justice Karol took suo moto cognizance of the depreciating condition of children.
The bench comprising Justice Karol and Justice S. Kumar called attention to Article 47 of the Indian Constitution that assigns the State a duty to raise the level of nutrition and standards of living of its people and improve public health. Section 5 of the National Food Security Act 2013 provides for nutritional support to children by way of meals at Anganwadi centres and schools run by the Government. Further, they added, "the relevant issue that arises is whether the State is fulfilling its statutory and constitutional mandate of providing food and nutritional security to children who have been adversely impacted by the closure of schools and Anganwadi centres due to the Pandemic COVID-19". For meeting the minimum nutritional requirements of children, the bench advised Angadwadi centre, community centres and/or schools to open for the sole purpose of providing food to the children. They also directed the State, Department of Food and Family Welfare and Department of Education to ensure that no child is pushed into or indulges in any activity of rag picking or beggary, more so on account of lack of food.
Justice Karol has both appreciated and reprimanded the State on different occasions.
In a petition moved by Veera Yadav, a transwoman, the absence of a column for transgender applicants in an advertisement for the post of 'Constable' issued by the Central Selection Board was challenged in July 2020. The bench comprising Justice Karol and Justice S. Kumar urged the state government to adopt a sensitive approach and take remedial measures to allow transgender persons to apply for the post. Consequently, the Bihar Government proposed for reservation of 1 in 500 seats for transgender for the post of constable/sub-inspector. This move was appreciated by the Patna High Court.
On the other hand, while hearing a suo motu petition on COVID-19 management in the state, a bench of Chief Justice Sanjay Karol and S Kumar pointed out the inconsistencies in the toll reported for Buxar district by Bihar's Chief Secretary and the Patna Divisional Commissioner. This was because only 6 deaths were reported in Buxar, a district of Bihar by Bihar's Chief Secretary whereas the Divisional Commissioner's affidavit mentioned 789 cremations at just one cremation site. Additionally, the Bench of Chief Justice Sanjay Karol and Justice S. Kumar asked the Government to develop a State Level Protocol, enabling a common person to understand the need of dealing with the virus. Most importantly, they directed the Bihar Government to check the purported illegality and brutality exhibited by the police in enforcing the lockdown.
Justice Karol has not only been on the forefront of matters involving people, but has also shown regard for the environment. In fact, former Chief Justice of India, Sharad Arvind Bobde, praised Justice Sanjay Karol for being environment friendly and not allowing destruction of Peepal trees in the High Court campus for construction of the new building. He made the engineers change the design and reshape the building complex to save Peepal trees.
Interestingly, in September 2019, the collegium recommended Justice Karol as the Chief Justice of the Jharkhand High Court. However, this was not brought into action and Justice Ravi Ranjan was appointed as the Chief Justice of the Jharkhand High Court. Had the recommendation been followed through, Patna High Court would not have gotten the astute Chief Justice that is Justice Sanjay Karol.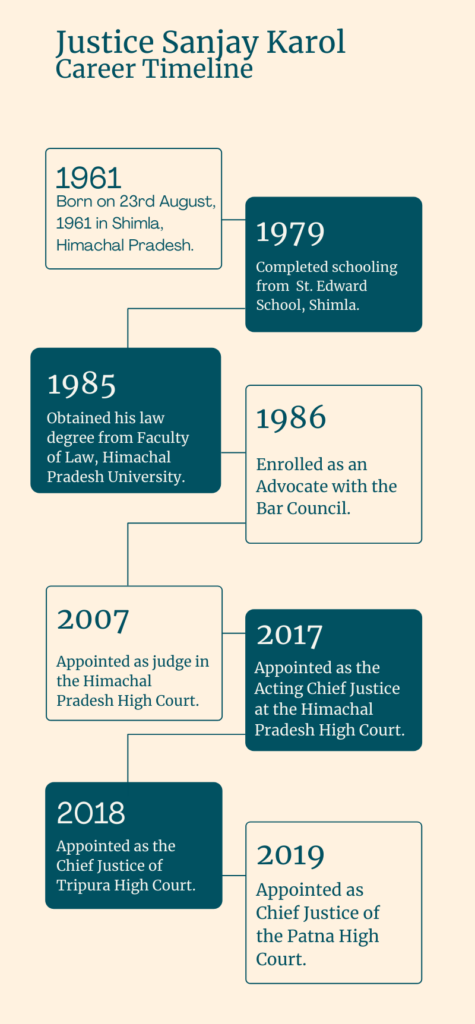 Weighing it all
After having walked through the story of Justice Sanjay Karol, let's circle back to P.N. Bhagwati's five elements of merit. Justice Bhagwati stated that these elements must be considered in any selection process and since the primary function of the collegium is to select and appoint judges, it is rational to assume that these elements are somewhat weighed in. Subsequently, an attempt to establish whether Justice Sanjay Karol is a good fit for the Supreme Court or not can be made by comparing his story to these elements.
Sanjay Karol is a good fit for the Supreme Court
The first element of merit: a high degree of intelligence, is unquestionably present in Justice Karol. He has dealt with various kinds of cases and, on occasions, untangled various combinations and conflicts of laws and acts (For instance: he found a middle ground for the State to keep up with Article 47 of the Indian Constitution and Section 5 of the National Food Security Act 2013 – providing midday meals to children in Bihar – without violating the COVID-19 guidelines). By noticing the amount of suo moto cognizance he has taken, it can be argued that Justice Karol has a keen and incisive mind. His theoretical perceptivity (shows in cases such as the one concerning ocular testimonies) shows that he has sound knowledge of basic subjects. It can also be said that he has an infinite capacity to work. One fact that proves this is that the Tripura High Court disposed of the highest number of cases in India during his tenure. Finally, having already been through some of his cases, it is clear that he is committed to the cause of the poor.
The last thing that Justice Bhagwati talked about, pertaining to the process of selection, was human sympathy. Even though this falls out of the elements of Justice Bhagwati's merit, it can be seen as a necessity for judgeship. In 2018, there was an incident where a milkman fainted due to seizure in Lakkar Bazar of Shimla. Justice Karol happened to be passing by the road in his car. Without any second thoughts, he got out of his car and directed the driver to take the milkman to a hospital as soon as possible and simply started to walk. This exemplifies Justice Karol's sympathy for people as well as his humbleness.
The comparison makes it apparent that there is a positive correlation between Justice Bhagwati's merit and Justice Karol's conduct. If the collegium considers these elements while selecting judges for elevation, not necessarily marking them as 'P.N. Bhagwati's merit' but just as raw necessary elements, it would seem like Justice Karol is a good fit for the apex court.
Sanjay Karol is not a good fit for the Supreme Court
In a video by advocate Dinesh Singh, Patna High Court, it was highlighted that Justice Karol has not given any landmark judgments in various important fields such as administrative law, business law, company law, criminal law, constitutional law, family law, Hindu law, Muslim law and merchandise law. However, it is important to note that the advocate in question takes an unreasonably extreme stand against Justice Karol in the video and also has other videos in which he speaks against Justice Karol, such as "How to get rid of Sanjay Karol". Nonetheless, to consider all the odds, let us assume that giving landmark judgments, when one gets the chance, is necessary for becoming a Supreme Court judge. The reason for Justice Karol not giving them can be attributed to him not stumbling upon cases or matters in which a landmark judgement can be given. Nonetheless, if he did get a chance and did not take it, this line of reasoning shows that Justice Karol is not a good enough fit for the apex court.
The mysterious ways of the collegium (2)
If we compare the for and against passages for Justice Karol, it is not hard to miss that the support for him being up to the mark for the Supreme Court outweighs the criticism. Moreover, P.N. Bhagwati's concept of merit seems like a sound approach for the selection of judges for elevation. Nonetheless, the collegium's decisions and reasoning pertaining to the selection of judges takes place behind closed doors. This means that there is no foolproof way of determining how judges are truly selected. This is why, 'Sanjay Karol is a good fit for the Supreme Court' becomes why Sanjay Karol should be elevated whereas 'Sanjay Karol is not a good fit for the Supreme Court' becomes why Sanjay Karol should not be elevated to the apex court. In other words, Justice Karol is nothing but an awaited dilemma for India's mysterious collegium.