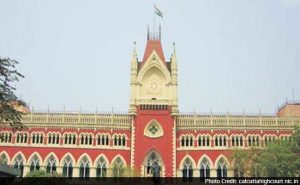 Madras High Court
The case against Judge C S Karnan is for continuous allegations against Madras High Court Chief Justice, several sitting and other retired judges. He was levelling corruption charges against them. "The Attorney General has asked the Supreme Court to make an example out of him for bringing the system into disrepute", read The Economic Times on 9th February.  
We are aware of times when the CJI, after receiving inquiry reports against a sitting judge would recommend the Parliament to initiate proceedings, but for the first time in the History of the Courts of this Country, The top Court has initiated contempt of court proceedings against a Judge of HC. A seven-judge bench of the Supreme Court has asked sitting Calcutta High Court Judge to appear and to explain why contempt action should not be initiated against him.
Reports show that Karnan has sent copies of letters to Prime Minister, law minister and among the public too. Chief Justice of India JS Khekar, and other six Judges Dipak Misra, J Chelameswar, Ranjan Gogoi, Madan B Lokur, P C Ghose and Kurian Joseph constitute the seven-judge bench before whom the sitting Calcutta High Court Judge has to appear on 13th of this month.