The Maharashtra police arrested Dr. G.N Saibaba, an English Literature professor at Ramlal Anand College, Delhi University, on 9th May 2014. The wheelchair –bound professor was charged under the Unlawful Activities (Prevention) Act (UAPA) for alleged Maoist links. He was also the deputy secretary of the Revolutionary Democratic Front. In September 2013, police searched his house taking away pen drives, a hard disk and reading material on the basis of disclosures made by journalist and activist Prashant Rahi who had also been arrested. Rahi was held after police arrested and questioned JNU student Hem Mishra for suspected Maoist links. A micro chip was also seized from him. The Inspector General of Police (IGP) of Nagpur Range, Ravindra Kadam, said that Professor Saibaba had been active with Left-leaning students of both JNU and DU and had been indoctrinating and recruiting them for the Maoist movement.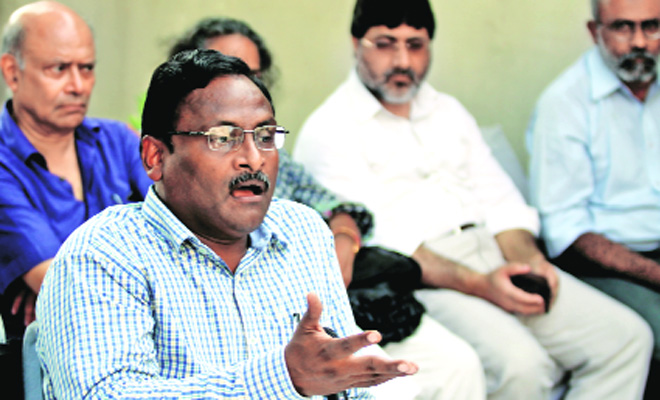 In June 2014, the Sessions Court of Aheri rejected his bail plea. While seeking bail, Saibaba's lawyer pleaded his client's innocence and also cited his physical disability, but the judge rejected the argument. Saibaba's bail was again rejected by Justice Shukre in August, 2014, the order was not challenged in the Supreme Court on any ground.
After over a year, the Bombay High Court accepted his bail plea in July 2015 as the Court exercised powers to protect his fundamental rights. In the view of his worsening health, the High Court directed the authorities to release him for three months for medical treatment. Later, the bail was extended till 1st December 2015. Later on 23rd December 2015, the Nagpur bench refused to further extend bail. The Nagpur bench of Bombay High Court directed Saibaba to surrender within 48 hours before the Gadchiroli police or face arrest. Professor GN Saibaba, was sent back to jail on 25th December 2015. Saibaba's wife G Vasantha lashed out against the order, and said that she wants to file a case against the "system" that had worsened her husband's physical condition. A group of professors, writers and filmmakers also spoke against the order of the Nagpur Bench of Bombay High Court rejecting Saibaba's bail plea.
In January 2016, Saibaba, who is 90 percent disabled due to polio, said in his petition that his condition has been deteriorating in jail. He sent a hand-written letter to the Judge of the Gadchiroli district and Sessions Courts, seeking treatment and dietary requirements on the ground that his health was fast deteriorating.
On 22nd February 2016, the Supreme Court bench headed by Justice Jagjit Singh Khehar, heard the bail plea of G.N. Saibaba. The Court ordered the Maharashtra Government to take steps to ensure that sufficient medical facilities and proper accomodation is made available to him. The Court made it clear that he should not be kept in a solitary confinement rather these facilities should be provided to him in some other place outside jail premises. The court also allowed Mr Saibaba to move an application seeking personal exemption from appearing before the trial court by 24th February 2016. For now, the Court has posted the case for hearing on 29th February 2016.
–By S. N. Mishra