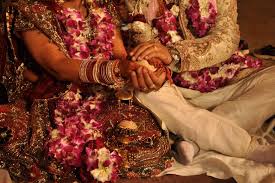 During the British colonial times, the legal minimum age of marriage was set at 14 for girls and 18 for boys. Under protests from Muslim organizations in the undivided British India, a personal law Shariat Act was passed in 1937 that allowed child marriages with consent from girl's guardian. After independence and adoption of Indian constitution in 1950, the child marriage act has undergone several revisions. The minimum legal age for marriage, since 1978, has been 18 for women and 21 for men.
Since colonial rule, age restrictions on marriage has been much debated and argued. It is argued that the different age requirements for men and women are discriminatory. In 2018, the Law Commission suggested that 18 years should be the minimum legal age for men and women alike to get married, saying the insistence on recognising different ages of marriage between consenting adults must be abolished. The law panel was of the view that maintaining the difference of 18 years for women and 21 years for men "simply contributes to the stereotype that wives must be younger than their husbands".[i] In 2019, the Delhi High Court issued notice to the Central Government in a petition for raising the minimum marriageable age for women to twenty-one, in order to make it at par with the minimum age for men.[ii] In 2019, it was also reported that the Modi Government is considering reducing the marriageable age of men to eighteen, based on the recommendations of Law Commission.[iii]
In recent times, love marriage has also become prevalent. It has also been observed that a large number of girls are voluntarily opting to marry before the set legal age. Delhi High Court and Andhra Pradesh High Court rulings have allowed minor girls to remain married, as they acknowledged that they had eloped voluntarily with their beaus. In light of these High Court judgements, Supreme Court said that it is difficult to arrive at a "straitjacket formula on marriageable age of girls to fit every case", and experts feel that the complex issue needs to be addressed soon.[iv]
In the 2020 budget, Finance Minister Nirmala Sitharaman had announced that a task force will review the minimum age of marriage for women, study its implications on maternal health and submit its recommendations within six months.[v]
Archaic laws cannot govern the society of today. There has been a paramount change in society since the last age requirements was set. It is important to review the laws through the lenses of present day and arrive at a conclusion.

---
[i] https://economictimes.indiatimes.com/news/politics-and-nation/let-18-years-be-recognised-as-legal-age-for-marriage-for-men-too-law-panel/articleshow/65625902.cms?utm_source=contentofinterest&utm_medium=text&utm_campaign=cppst
[ii] https://www.barandbench.com/news/delhi-high-court-issues-notice-in-plea-to-raise-minimum-marriageable-age-for-women-to-twenty-one
[iii] https://theprint.in/talk-point/modi-govt-considers-lowering-marriage-age-for-males-can-indian-men-handle-it-at-18/313366/
[iv] https://timesofindia.indiatimes.com/life-style/relationships/love-sex/Courts-still-confused-about-legal-age-of-marriage/articleshow/21333081.cms
[v] https://economictimes.indiatimes.com/news/politics-and-nation/panel-to-review-age-of-marriage-for-women/articleshow/73861527.cms?utm_source=contentofinterest&utm_medium=text&utm_campaign=cppst