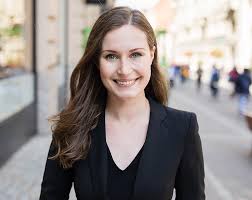 About 80% of Indian politicians are above 70 years of age where as 70 per cent of India's population is below 40 years of age.[i] It has been speculated whether an old bunch can govern the country well. There have been calls help make space for young politicians. It is argued by some that India is a young country, going through demographic dividend. A young person will be more attuned with technology and problems of the youth will be able to lead better.
Young people are taking over the world and their country. The past several years has seen a marked increase in young people getting involved in politics and running for office from the United States to Europe and Africa. Sanna Marin (35, Finland) , Oleksiy Honcharuk (38, Ukraine), Jacinda Arden(39, New Zealand) are the youngest prime ministers in the world. Jacinda Ardern has been reckoned as a global force and widely described as the most powerful woman in the Southern Hemisphere and one of the most powerful women in the world.[ii] In the United States, Rep. Alexandria Ocasio-Cortez became the youngest woman elected to Congress at age 29. The global developments show that the leadership is shifting to the youth.
Other countries are proactively seeking youth leadership. In 2001, Kenya launched the National Democratic Institute to facilitate a Young Political Leadership Academy, with young politicians across party lines receiving skills training on negotiation and advocacy, along with projects to implement in their parties. A number of countries like Morocco, Pakistan, Kenya and Ecuador set aside seats in their legislature for youth leaders. Countries like Ecuador, El Salvador, Senegal, Uganda and Burundi have lowered the minimum age for candidacy in all legislative elections to 18. In Bosnia, if no candidate receives a majority in the election, Article 13.7 of its election law awards the seat to the youngest candidate.[iii]
United Nations has also actively tried to inculcate youth leadership. The United Nations Development Programme (UNDP) developed its first-ever Youth Strategy (2014–2017), called "Empowered Youth, Sustainable Future", in line with the UN System-Wide Action Plan on Youth (2013) which calls on young generations to become more involved and more committed in development processes. 2013 also saw the publication of the "Enhancing Youth Political Participation throughout the Electoral Cycle: A Good Practice Guide", UNDP's first review of programming strategies for youth political participation beyond the ballot box. In 2016, to further boost the implementation of UNDP's Youth Strategy and respond to both the 2030 Agenda for Sustainable Development and United Nations Security Council Resolution 2250 on youth, peace and security, UNDP launched a Youth Global Programme for Sustainable Development and Peace – Youth-GPS (2016–2020).[iv]
This however, may not be true for India. In India, only 6% of the leaders and ministers in the government of India are below the age of 35.[v] It has been attributed due to the labyrinth Indian politics is. Young Indians view politics as a nepotism and wealth dominated field party.[vi] The current Lok Sabha has close to 60 young politician between the age of 26 to 39.[vii] Most of these people are sons and daughters of politicians. The nepotism clearly prevalent deters others from joining politics.
India has been referred as "the country of young, run by old ". While, this is not much, BJP has a rule where they allow only give party tickets to people less than the age of 75. On this ground, BJP has refused tickets to many eminent personalities like L K Advani and Murali Manohar Joshi and Sumitra Mahajan.[viii] This makes way for younger politicians to join.
In India, there should be training programs to help children acquire leadership skills. Through awareness workshops, youth should be encouraged to join politics, not parties.

---
[i] https://www.groupdiscussionideas.com/should-there-be-a-retirement-age-for-politicians-in-india/
[ii] https://www.nzherald.co.nz/nz/news/article.cfm?c_id=1&objectid=12171513
[iii] https://economictimes.indiatimes.com/blogs/et-commentary/youth-participation-in-politics-is-still-dependent-on-wealth-legacy-and-connections/
[iv] https://www.iknowpolitics.org/en/discuss/e-discussions/youth-political-participation
[v] https://www.youthkiawaaz.com/2018/05/why-is-indian-youth-not-entering-politics/
[vi] https://www.entrepreneur.com/article/327120
[vii] https://www.oneindia.com/young-politicians/
[viii] https://economictimes.indiatimes.com/news/elections/lok-sabha/india/retirement-age-cannot-be-fixed-in-politics-sumitra-mahajan/articleshow/68820040.cms?utm_source=contentofinterest&utm_medium=text&utm_campaign=cppst