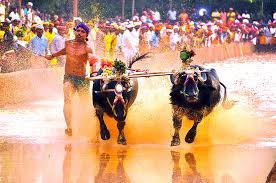 The Karnataka State assembly legalises the sport 'Kambala'. Also, has decided to amend the Prevention of Cruelty to Animals Act,1960 in order to allow the traditional sport. The High Court of Karnataka on 30th January declined to remove the interim stay on the sport until the Verdict on Jallikattu is pronounced. The interim order was passed after the filing of the suit by People for Ethical Treatment of Animals (PETA).
Kambala is the traditional buffalo race held under the sponsorship of local lords and households or Patels of village. In November 2016, Karnataka High Court Chief Justice Subhro Kamal Mukherjee and Justice Budihal R B passed an interim order banning Kambala races in the state until the disposal of PIL filed by PETA.
The protest to lift the ban on Kambala started after the massive protest by the students and the youths at Tamilnadu to lift the ban on Jallikattu. After the passing of bill the CEO of PETA said, "Allowing the cruelty to animals is a shameful black mark on our nation".