The Road Transport Ministry has notified a Standard Operating Procedure (SOP) that encourages more bystanders to come forward and help road crash victims by taking them to hospitals or informing the police about such an accident.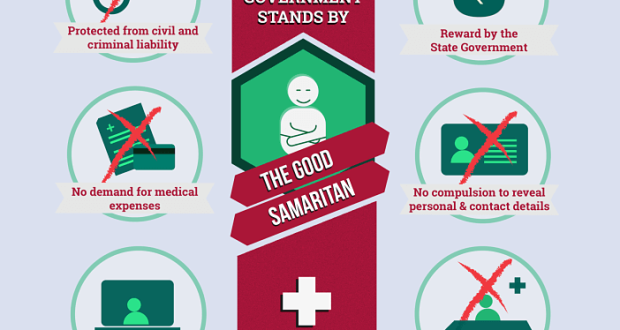 According to the SOP, any Good Samaritan who helps such a victim, cannot be asked to reveal personal details which includes very important details like a person's full name and address. This has to be followed unless such a person chooses to be a witness to the accident. In such a case, all examinations by the Investigating Officer that are a part of the legal procedure, will be held at a time and place decided by the witness as per his/her own convenience, if possible and the investigating officer does not need to put on his uniform for going to such a place. If the witness chooses to get examined in the police station itself, it should be held in a very reasonable manner and in a single-setting. This SOP also deals with language barriers. For example, if such a witness does not speak in the language that the officer does not understand, it is the sole duty of the officer to arrange for an interpreter.
This step has been taken by the government in order to ensure protection of the good Samaritans and also with a hope that more bystanders will come forward and help such victims which is something that is urgently needed. However, it is argued that this step might not be as good as it seems to be and can actually cause a lot of troubles. For example, in cases where a person due to whose negligence the accident took place, that person takes the victim to the hospital or informs the police. In such cases, it would be extremely difficult for the police to solve such a case without personal details. Since it is a step taken in good faith, let us hope it works for the best.
-By Shrishti Singh