The Tablighi Jamaat held the annual religious congregation at Nizamuddin, Delhi from 13.03.2020 to 15.03.2020. In essence, at a time when the pandemic was spreading. Several people from across the country and abroad attended the event. Subsequently, many attendees have
tested positive
for COVID-19. As a result, several communal hashtags annexing Islam to the pandemic are trending on twitter. Some of the hashtags are: #Islamiccoronavirusjihad, #Coronajihad, #Nizamuddinidiots, #TablighiJamatVirus, etc.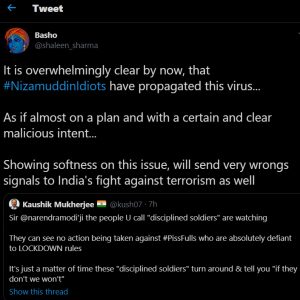 Khaja Aijazuddin, an advocate practising in Telangana High Court, filed a petition in the Apex Court against such hashtags. He seeks a ban on the usage of communal hashtags. The petitioner-advocate argues that a specific religion is being attached to the pandemic. Thus, it goes against the guidelines issued by the World Health Organisation on 18.03.2020. He also calls for the invocation of various penal laws in the country. He asserts, "for manifestly insulting the religion, hurting the feelings of the community and disturbing communal harmony of the country."
The petitioner prays for directions to the Centre and Telangana police to ensure Twitter stops the trending hashtags. Adding, the trendy hashtags are highly unwarranted, illegal and unconstitutional. He also seeks directions for social media platforms to be restrained from carrying messages that hurt the feelings of the community. A similar plea has been filed earlier in the apex court by the Jamait Ulama-i-hind. However, the said petition is filed against the media. In the petition by Jamaat Ulama-I-Hind, the Supreme Court impleaded the Press Council of India on the last date of hearing.