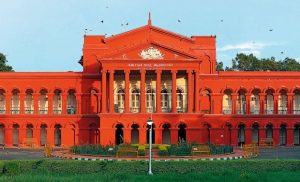 Karnataka High Court
Two new judges have been appointed as the additional judges of the Karnataka High Court and they are to take oath this week. With the addition of judges the number is likely to increase to 31 against the sanctioned strength 62.
N K Sudhidhar Rao and HB Prabhakara Shastry to be the additional judges of the High Court for next two years. HB Prabhakara Shastry is the presiding officer at the Karnataka State Transport Appellate Authority. N K Sudhidhar Rao was the receiver of 'Namma Bangaluru Varshada Vyakthi' award in the year 2011. He is known for his discipline, values and honesty. He was the special judge of Special Court for Lokayukta cases. The Judge was dealing with political corruption cases and has never been carried away by political pressures. One of the main case in his court and the popular one till date is sending the former Chief Minister BS Yeddyurappa and his colleague S N Krishnaiah Shetty to judicial custody relating to denotification of lands acquired by the Bangalore Development Authority. It was referred in the Article http://timesofindia.indiatimes.com/city/bengaluru/karnataka-hc-gets-two-more-additional-judges/articleshow/57209715.cms .
Both the judges are from the District Court and are likely to take oath by this week.