In the month of August 2015, a video was uploaded on YouTube titled 'Drunk Delhi police man on Delhi metro-Funny', which was a recording of Salim, posted with the Civil Lines police station. The video went viral and he was mocked on social media. However the reality is far from the misleading story that you might assume it to be.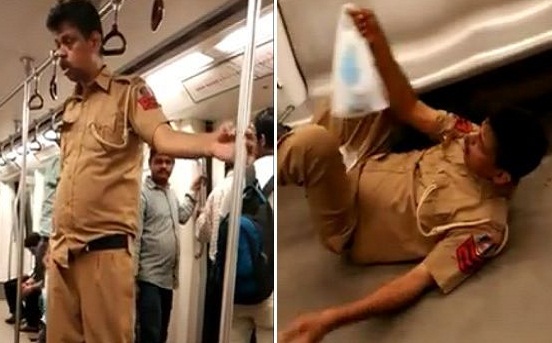 What is the reality?
Salim, a native of Kerala is a heart patient with several other serious disorders. He had suffered a major stroke and a block in brain three years ago, leading to brain hemorrhage. It left him with a paralyzed left side of his body, with  contorted face, memory loss, body weakness, and difficulty in normal communication. He has been hospitalized repeatedly ever since and was on medications. He had forgotten to take his medicines the previous day of the incident.
He felt very sick at his work place that day, but decided to stay till his duty ended at 9:30. While travelling back in the metro, he felt very dizzy. He was in a disoriented state and did not have control over his body. When the metro halted at Azadpur, he lost his balance and fell down. While some people helped, it was rather amusing to the person who was recording it who later uploaded the video on YouTube.
Rumours fueled by media!
Several news channels and newspapers covered this incident without putting any efforts to investigate. He was mocked and defamed even on social media. This led to the police commissioner B S Bassi suspending him and seeking an explanation for his "conduct". Salim became a subject of ridicule among his colleagues and neighbours. What made it worse for Salim's family was the barrage of phone calls and embarrassing queries from relatives and friends. Salim's wife went into depression and suffered a heart attack within one month of the video going viral.
Investigation
The good news is that after he received a "clean chit" from his senior officers during the departmental inquiry his suspension was withdrawn and he was reinstated in his position within two months of the video going viral. However the sad news is that although the "funny" video alleging him to be drunk was shown by several news channels but his reinstating was not covered by any media. The common perception of the public is still that he was drunk and that he is still suspended.
Seeks SC's intervention
Salim moved to the Supreme Court following his reinstatement. In his petition, Salim is seeking compensation for his "irreparably maligned image in the eyes of the public", immediate removal of the 37 second clip from the YouTube, curbs on uploading of such misleading clips in the future and steps from  Delhi government, Police Commissioner, Delhi Metro Rail Corporation and the Press Council of India, to "regain his lost dignity by publishing the correct factual position in some prominent places, print and electronic media".
Victim of social media
His lawyer William Matthews in the petition sought the Court's intervention stating that Salim will have to live and suffer in silence, who is already half paralyzed , with serious economic, health, emotional, and physical disabilities and has to take care of his wife and his aged father of the petitioner who is paralyzed for the last more than 5 years. He in an interview also emphasized that 'Right to life' under Article 21 of the Constitution is inclusive of the right to live with dignity. Now that Salim has been defamed in the worst manner on social media, he will have to suffer all his life.
This incident with Salim throws light on the fact that social media has great outreach which has many advantages however its victims suffer terrible fate. It is for all of us to see that how social media also fuels false rumours. Another aspect to be considered is the responsibility of the media to ensure the authenticity of the news they publish. Also in case of a mistake they must be responsible enough to issue an apology and show the true picture. As of now we all have failed Salim on various levels.
–By Neha Mishra