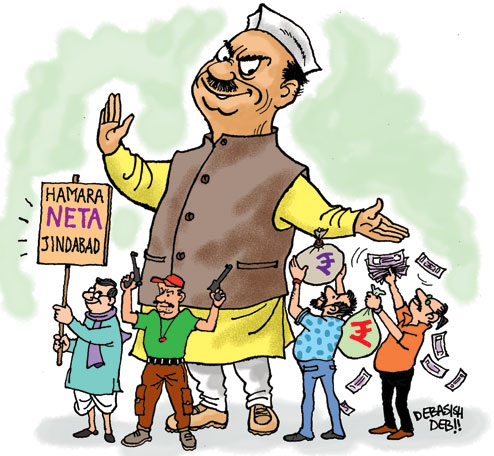 People appointed to various posts in the Legislative, Executive and Judiciary wing of governance, derive their rights, roles and responsibilities from the Constitution and as such are called constitutional functionaries. These functionaries, who have taken the pledge to uphold the constitutional principles, are charged with the responsibility of ensuring transparency and accountability in governance and not taint the principles of democracy with corruption. Criminalization of politics goes against these ideals of constitution whereby people charged or convicted with any crime enter politics and contest elections and in certain cases get elected to the Parliament or State legislature.
Article.102 and Article.191 of the Indian Constitution provide for disqualifications from being chosen as a member of the parliament or state legislature respectively, however these articles do not include, within its ambit disqualification of persons with criminal background and/or charged with offences involving moral turpitude and/or of persons against whom criminal cases are pending; from being appointed as ministers in the Central and the State Governments. Chapter III of the Representation of the People Act, 1951 provide for disqualification on grounds of 'conviction' of any offence enlisted under this chapter but not for reasons mentioned above.
In a recent case, a two judge bench of the Supreme Court comprising of Justice RF Nariman and Justice Ravindra Bhat observed that over the last four general elections, there has been an alarming increase in the incidence of criminals in politics. In 2004, 24% of the Members of Parliament had criminal cases pending against them; in 2009, that went up to 30%; in 2014 to 34%; and in 2019 as many as 43% of MPs had criminal cases pending against them.
In the absence of any legislation or constitutional provisions dealing with this menace a Constitution bench of the Supreme Court in Public Interest Foundation and Ors. v. Union of India and Anr, provided for the following guidelines to be followed before any person is appointed as a candidate to contest any election:
Every person who wants to contest election will be required to fill the form provided by the Election Commission of India
That such person will have to put all necessary information required to be rendered by Commission.
That such person will have to mention in bold letters about the criminal matters against them in any court.
That the person, who is going to contest election on the ticket given by any political party, will be bound to inform about the cases pending against them.
In the above situation (point 4.) such political party is under obligation to put all information in their website related to such person along with the information of cases against him.
That such person and concerned political party shall issue a declaration pertaining to the information of cases against the candidate. This should be done by giving wide publicity through print and electronic media in the locality as well as on a large level.
That such procedure of declaration and giving wide publicity should be done at least three times after filing of the nomination.
These guidelines were issued to make people aware about the criminal background of the candidates so that the public can be more vigilant at the time of electing them as their representatives. Since the Supreme Court lacks the power to legislate these directions need to be formalized into a law passed by the parliament to ensure their enforceability in case of non-compliance.