"Human rights are about the dignity & worth of the human person. They expand the horizon of hope, enlarge the boundaries of the possible & unleash the best of ourselves & our world….Human rights should be Human's highest aspiration…..and People across the world should know that we are on their side."–These words of the UN Secretary General Antonio Guterres, from a recent address to the Human Rights Council, couldn't sound more hollow and hopeless in light of current violence unleashing in Delhi.
On Sunday, 22nd February, pursuant to a Twitter message being written by Kapil Mishra; member of the Bharatiya Janta Party, urged people to gather and "prevent another Shaheen Bagh" protest from taking place near the Jaffrabad Metro Station. Soon after, violence broke out between supporters and critics of the new law. Stone pelting reportedly took place from both sides and some vehicles were also damaged. This resulted in death of 7 people; one police man and six civilians.
After the incident, via another twitter message Kapil Mishra issued an "ultimatum" threatening the Delhi police to "get the roads cleared (of anti-CAA protestors) within three days or they will not listen to anyone" before repeating the above incident.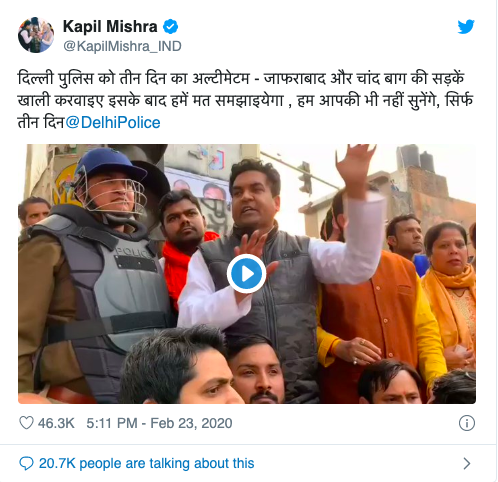 While the Delhi Police has been condemned for being a mute spectator of this violent drama there is some action on side of the judiciary to combat the upward spiral of violent acts. Section 144 of CrPc has been imposed in 10 locations of North East Delhi particularly in the areas of Maujpur, Kardampuri, Chand Bagh and Dayalpur where incidents of violence and arson have been reported.
Section 144 of the Criminal Procedure Code (CrPC) of 1973 authorizes the District or Executive Magistrate of any state or territory to issue an order to prohibit the assembly of four or more people in an area. According to the law, every member of an 'unlawful assembly' can be booked for engaging in rioting under the Indian Penal Code for using force or violence. Section 144 is imposed in urgent cases of nuisance or apprehended danger of some event; similar to the abovementioned, that has the potential to cause trouble or damage to human life or property. In the light of current situation, there is a possibility of potential misuse of powers granted to the Police under Section 144 but given the state of affairs, this move seems practical if not entirely effective to contain the violence from unfolding further.
The violent protests in relation to the infamous Citizenship Amendment Act are the manifestations of the factually ignorant, emotionally insecure and intellectually intolerant people and their representatives resulting in the death of human dignity and tolerance and causing a complete breakdown of the social fabric of our country. The UN Secretary General in its address expressed "an appeal to human solidarity" which can be achieved if leaders of various communities and political parties stand together against (such) violence. While certain MLAs and members of Aam Aadmi Party are holding conferences to come up with an effective solution, only time will tell how responsibly these representatives act in upholding the world's largest democracy.