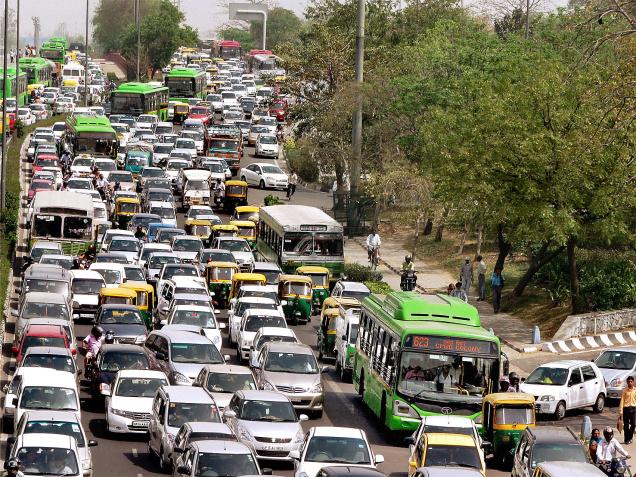 In 2014, a study released by World Health Organization (WHO) stated that Delhi is the most polluted city in the world. The report on Ambient Air Pollution conducted the research in almost 1600 cities across the world. Recently, even the Delhi High Court stated that the pollution levels in the national capital have risen alarmingly and it is similar to "living in a gas chamber". A toxic cocktail of nitrogen oxide, ozone, benzene, carbon monoxide and sulphur dioxide has made the air of Delhi unfit for even breathing. Pollution in Delhi is at its peak in the winter as the pollutant's temperature drop and they combine with the fog to create smog which is hazardous if ingested deep into the lungs.
To tackle the alarming pollution condition Arvind Kejriwal government has announced that private vehicles with odd and even registration numbers will be permitted on the roads on alternate days starting from 1st January, 2016. Transport minister Gopal Rai in a news conference held on 8 December 2015 said that this rationing formula will be tried from 1 January 2016 to 15 January 2016 from 8am to 8pm. It was clarified by the minister that the ban would be on the basis of dates rather than days. Odd number vehicles would be allowed on the road on odd dates – dates which end in 1,3,5,7,9 and even numbered vehicles on even dates – 0, 2, 4, 6, 8. This plan will exclude public transport vehicles such as DTC buses. The policy was welcomed by the current Chief Justice of India Justice T.S. Thakur who said that "Supreme Court judges ready to follow government's odd-even car rule in they have no problem with the formula. This will encourage others."  However the Kejriwal government is keeping an open mind and is ready to scrap the odd-even plan if it causes major inconvenience.
Similar regulations have been made in Mexico City, Bogota, Beijing and Paris in the past. This particular programme is however comparable to Hoy No Circula (today it doesn't circulate) which was introduced in Mexico City in 1989 to combat rampant air pollution where the city banned cars for one day per week depending upon the last digit of their number plate. Initially it was a success in that it brought down the pollution levels due to carbon monoxide (CO) but the residents of the city found a way to circumvent the process by buying a second car – mostly older second hand cars which caused even more pollution. And the long term impact projected it to be a complete failure.
Thanks to the National Green Tribunal (NGT) which has banned diesel vehicles inside delhi which are more than 10 years old, even though implementation of this order is mostly lacking, we might be able to address the pollution problem to some extent if the Odd Even program fails. Bogota had an answer to this problem as well where it kept on changing the combination of days and numbers every year with regards to which cars were allowed on the roads but the drivers chose to drive during off-peak hours where there was no restriction thus exploiting the loophole left by the government.
The Delhi government's move to introduce restriction on vehicles is inspired from the Beijing model. Indeed, that model was a success and helped the Chinese capital to curb down its pollution. There is a big difference between both of these cities because one of them had a road map or rather a blueprint for a long term plan while the Delhi government will be ready with its blueprint for 15 days by 25 December 2015. The subway network in Beijing is double the length of Delhi's metro system and has advanced automatic surveillance system using cameras to implement the rules rather than handing the job to traffic police. This is one of the most important reasons why the car restriction policy was a success for the Chinese capital as this created very little wiggle room and the penalties were severe enough to act as negative reinforcement. Currently Beijing has a very strict policy for issuing second vehicles to citizens which works through a lottery system every month.  The point that I want to make here, is that, it was meticulous planning that led Beijing to pass with flying colours which the Delhi government currently lacks. Also, it is being said that since winter is the only period when pollution is rather evident, once winter is gone will things go back to square one?
A study on air pollution in Delhi conducted by a team of researchers led by the University of Surrey in the United Kingdom had found the city to be suffering from a "toxic blend of geography, growth, poor energy sources and unfavourable weather that boosts its dangerously high levels of air pollution" and it also recommended that well round solutions are needed instead of just focusing on vehicular pollution. Being the world's fifth largest megacity with 25.8 million people in it, Delhi needs a more comprehensive plan to curb its pollution problem. Energy consumption has risen by 57% from 2001 to 2011which is one of the most prominent reason of air pollution. 60% of sewage is left untreated which causes respiratory ailments.
What are the odds that only odd-even plan is going to cut it?