Kafeel Khan, a doctor by profession and a social activist has been targeted by Yogi Government since 2017, in 3 years he had been maliciously arrested 3 times & imprisoned for around 14 months on the false charges set up against him at many instances. Now he is absolved of all the charges. It leads to the question that "Is Kafeel was arrested because he is a Khan?"
Kafeel Khan, a Paediatrician had taken the matter of brutality against him and other social activists who raised their voices against CAA to the International Authority UNHRC. Kafeel Khan had written a letter to UNHRC, thanking them for their support and creating pressure on the Government for the immediate release of human rights defenders.
Background
Dr. Kafeel Khan was first arrested on September 2, 2017, shortly after the BRD oxygen tragedy which led to the death of 70 children in Gorakhpur, Uttar Pradesh. Kafeel was detained in jail for 9 months on the false charges of culpable homicide and medical negligence. He states, "the reason behind the tragedy, was the stoppage of supply of oxygen cylinders due to the non-payment of dues to the vendor, to hide their own failure the Yogi government made me a scapegoat and imprisoned for nine months". In this matter, Allahabad High Court absolved Kafeel of all charges on the grounds that there is no evidence of medical negligence against him, and he was nowhere involved with oxygen tender.
Two years after the incident, an internal hospital inquiry committee cleared him of the allegations and said that he was not the nodal officer of the encephalitis ward and thus it was not negligence on his part that led to the deaths.
Another incident took place after the speech delivered by Kafeel Khan on 12th December 2019 in an anti-Citizenship (Amendment) Act (CAA) rally in AMU, Aligarh. An FIR was lodged against him under Section 153A of the Indian Penal Code. After a gap of 45 days he was arrested on 29th January 2020, i.e. "no proceedings were carried out for the detention of Kafeel khan for two months". On 10th February he was released on the bail granted by the Chief Judicial Magistrate, though this order was not in his favour. After the bail orders, he was again detained under Section 3 (2) of the National Security Act. After his long struggle behind the bars on 1st September 2020, he was absolved from all the charges by the Allahabad high court. While dropping NSA charges against Kafeel, the Hon'ble Court Observed:
Dr Kafeel Khan's speech at AMU, Aligarh, UP "does not disclose any efforts to promote hatred or violence. It also nowhere threatens the peace and tranquillity of the city of Aligarh. The address gives a call for national integrity and unity among the citizens. The speech also deprecated any kind of violence."
It appears that the District Magistrate had selectively read and handpicked a few phrases from his speech, ignoring its true intent. Prima facie, the speech is not such that a reasonable man could have concluded that inference drawn by the District Magistrate, Aligarh. The High Court declared the extension of the period of detention of Dr. Kafeel Khan as illegal and not sustainable in the eye of the law.
LETTER TO UNHRC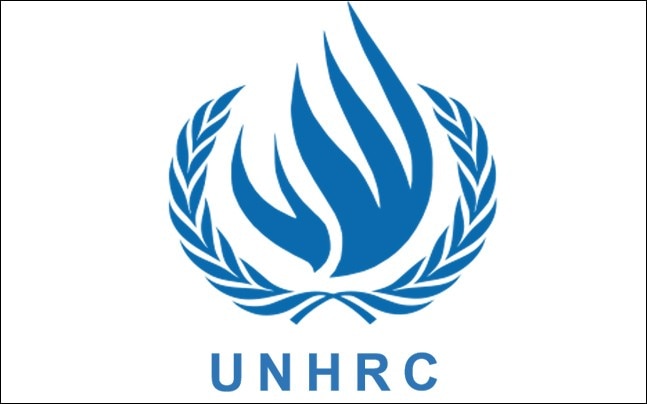 Khan in his letter to UNHRC dated 19th September 2020 stated,
"Authorities are continuing invoking counter-terrorism and national security legislation using procedural police powers against these human right defenders for raising issues which would affect India's poorest and most marginalized community, violating international human right standards".
He also mentioned the brutality suffered by him during his detention, "I was tortured mentally as well as physically, denied food and water for many days, and treated inhumanly during my 7 months of incarceration in a congested, overcrowded Mathura Prison".
Regarding the maliciously constructed case of the BRD oxygen tragedy, he wrote "to hide the Government failure I was made a scapegoat and imprisoned for nine months though I, left no stone unturned in saving the lives of kids on that day. Honourable Allahabad High Court categorically stated on 25th April 2018 that there is no evidence of medical negligence against me and I was nowhere involved with oxygen tender".
Khan as an activist stated, "Putting me behind the bars and trying to suppress my voice by physically and mentally torturing me is not going to break my zeal, enthusiasm, my commitment to my country and it's a democratic value."
UNHRC's Interventions in India
The United Nations Human Rights Council (UNHRC) was founded in 2006 as a substitute for the UN Commission on Human Rights. India was elected to the UNHRC's body, for a period of three years beginning January 1, 2019. In many instances, UNHRC has intervened in Indian maters of Human Right Violation.
In March 2020 UNHRC has moved an intervention application in the Supreme Court of India criticizing the Citizenship Amendment Act (CAA). To protect and promote all human rights and to conduct necessary advocacy established pursuant to the UN General Assembly resolution. Michelle Bachelet Jeria the High Commissioner of UNHRC said "While reducing the risk of refoulement for certain communities, the CAA unequally places other communities at such risk. Accordingly, the narrow scope of the CAA, which extends protection from return only on religious grounds and limited to the specific ethnoreligious groups, may not be sufficiently objective and reasonable in light of the broad prohibition of refoulement under international human rights law,".
Again on 26 June 2020 UN experts called on India to immediately release human rights defenders that have been arrested for protesting against the amendment to the nation's citizenship laws. UN experts, further stated that "Authorities should immediately release all human right defenders, many of whom are students, who are currently being held in pre-trial detention without sufficient evidence, often simply investigated allegations of incitement to hatred and violence made by CAA supporters, some of whom are reported to have chanted "shoot the traitors" at counter-rallies.
International Authority citied 11 names for their immediate release, among them one was Dr. Kafeel Khan.
UNHCR's supervisory responsibility is set out explicitly in its Statute, as well as in Article 35 of the 1951 Refugee Convention and Article II of the 1967 Protocol, and requires all Contracting States to cooperate with UNHCR in the exercise of its responsibilities. In essence, Contracting States undertake to cooperate with UNHCR in the exercise of its functions, and in particular with regard to the application of the provisions of these instruments.
In the Congressional Research Service Report of UNHRC, it mentions that "all Council members are required to undergo a Universal Periodic Review that examines a member's fulfilment of its human rights obligations and commitment, such obligations might include human rights treaties ratified by the country concerned. Under thematic mandates, special rapporteurs analyze major global human rights issues, such as arbitrary detention, the right to food, and the rights of persons with disabilities. The council also maintains a complaint procedure for individuals or groups to report human rights abuses at their own website.
Thus, the UNHRC can put the matter of Kafeel Khan and other human right defenders to the "Universal Periodic Review of India", who were maliciously detained under the garb of draconian National Security Act and other Penal Laws of the Country.